welcome
to our company
G.R.I.P.S., Inc. has been providing quality mechanical service and installation to the West Michigan business community since its inception in 1992. Our mission is to provide a broad range of professional mechanical services. These services include, installation of new HVAC systems, customer support through mechanical maintenance programs tailored to accommodate each customer's specific needs, HVAC and process mechanical services 24 hrs 7 days a week 365 days a year.
services
overview
Heating

Air Conditioning

Refrigeration

Combustion Burners

Paint Finish Systems

New Construction

Process Piping

Chillers

Make-Up Air Units

Incinerators

Air Balancing

Ventilation

Controls

Boilers & CSD-1 Reports

temperature and pressure controlled systems with Consolidated Controls Company Inc.
contact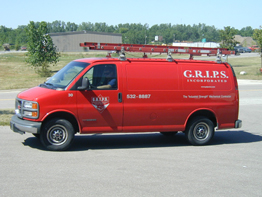 G.R.I.P.S., Inc.
3620 Busch Drive SW
Grandville, MI 49418
(616) 532-8887
(616) 532-8469 fax
sdykstra@gripsmc.com